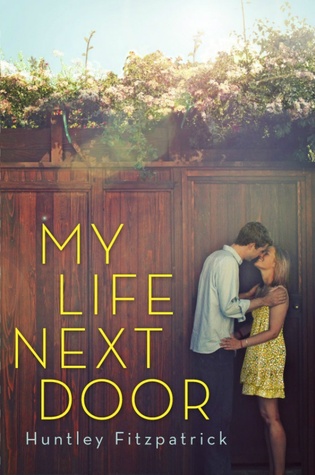 One thing my mother never knew, and would disapprove of most of all, was that I watched the Garretts. All the time."
The Garretts are everything the Reeds are not. Loud, messy, affectionate. And every day from her rooftop perch, Samantha Reed wishes she was one of them . . . until one summer evening, Jase Garrett climbs up next to her and changes everything.
As the two fall fiercely for each other, stumbling through the awkwardness and awesomeness of first love, Jase's family embraces Samantha - even as she keeps him a secret from her own. Then something unthinkable happens, and the bottom drops out of Samantha's world. She's suddenly faced with an impossible decision. Which perfect family will save her? Or is it time she saved herself?
A transporting debut about family, friendship, first romance, and how to be true to one person you love without betraying another.
When I first picked up this book, here is what I was expecting: Girl and boy meet, girl thinks boy is attractive, boy thinks girl is attractive, they get together, some dramatic happening that probably could have been solved if they had only talked, they make up finally, they kiss, and the audience screams and cries because though we have all seen it before, it was just so beautiful and
so
cute!
One or two of these expectations hit the target, but
My Life Next Door
surprised me with it's moments of deepness, and it's interesting plot twists. Think Anna and the French Kiss. The only way that I can really think to explain it is that It's one of those books that you expected a little bit less and got a lot more.
Samantha was a wonderful character to read about. Sure, she was fortunate with money (her mother was plain rich) and from the outside, her life looks pretty amazing. After all, she works two respectable jobs, and her mother is state senator. But of course, it's harder for Samantha than it looks. Her mother isn't all that kind, and because of work, she was never home for Samantha. (And her sister hardly even existed throughout this whole book.) So Samantha was expected to work two jobs for the summer, and when her hours were done, to hole up in her house and wait for her mom. But Samantha didn't demand pity - she knew that she was in a pretty good situation, by the world's standards, and that she should be grateful for it. She has a natural curiosity that I admired as well, and throughout her life, a lot of that curiosity was focused on the Garretts.
I loved the Garretts family, probably because I belong to a similar one myself. My family has three less kids than them (the Garretts have eight) but it's still quite the handful. But while it is, as the book itself says, loud and messy, we are also affectionate and loving for one another. It is definitely ridiculous at times, but I love being part of my huge family. You never run out of things to do, that's for sure, and you're never lonely. I think that's what Samantha was seeing in the Garretts. But her mother, who I did not like, does not want Samantha to
ever
socialize with the Garretts. There are too many of them, and their lifestyle is too much to handle. In her mother's eyes, Samantha is better than to slum it with them, but to Samantha… there's a certain charm to the Garretts.
And then we meet Jace. Jace was… perfect! Oh, I loved him. He was incredibly nice, and completely trusting of Samantha. He didn't hold her back, and he loved all of her little quirks and astronomy facts she had stored in her head. To say the least, he adored her, and she adored him. Their romance was totally something to aspire to, and I loved being right there with them.
BUT THEN! The ending drama. Reading through other reviews of this book, I found that a lot of reviewers didn't like the above mentioned drama. But I guess I am just my mother's daughter. I love a healthy dose of drama, and it only added to the oh-so-beautiful ending. You just can't do contemporary without drama, don't you think?
Overall, I loved this book. Very easy, but still has it's thought provoking moments. I give it four very cute stars!